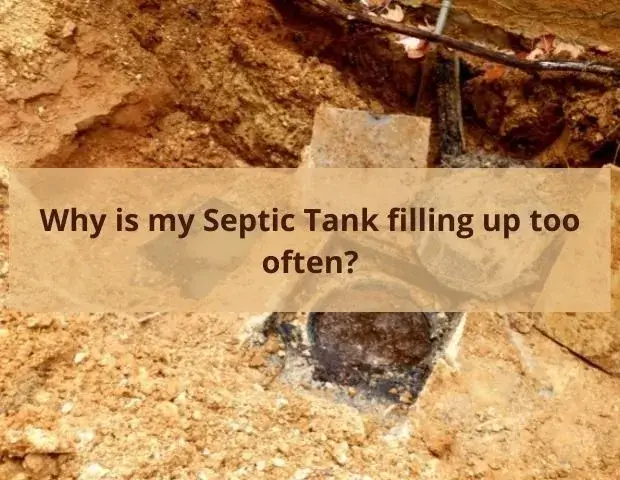 If you have a septic tank, it needs to be pumped every 3-5 years. But if you need cleaning and pumping services ever so often, not only is that expensive and time-consuming, but also a matter of concern. To prevent the problem from escalating, it is best to get help from professionals. Shorty's Sanitary Service provides expert septic tank services in Michigan.
Understanding Why Your Septic Tank Fills Up Too Fast
Here are a few common reasons, signs, and solutions for why your septic tank is filling up quickly.
Overuse of water
Septic tanks are meant to collect wastewater from a house. However, when forced to handle too much wastewater quickly, it can cause the septic tank to overflow. Whether you have a small septic tank or use more water than the average household, it can occasionally overload the tank. Be mindful of how much water you use daily and prevent using more water than necessary.
Inadequate maintenance
If the septic tank or pipes have cracks, wastewater may seep out but other groundwater may also fill into the tank. Damage can also be the reason to fill up quickly if someone drives over the septic tank causing a breaking or cracking tank or pipe.
Blockages in the drainage system
Dumping chemicals or grease may be the reason to cause blockages in the drainage system. Flushing wads of toilet paper is an easy way for bacteria to break down the tank and it also leads to a clog in the pipes. You have to avoid flushing things like paper towels, feminine hygiene objects, baby wipes, and various other things down the toilet.
Signs that your septic tank is filling up too fast
Here are a few common signs why the septic tank is filling up quickly.
Slow draining fixtures
Maybe the slow draining is the reason to fill the tank too fast. The septic tanks are designed to hold the wastewater, any damage makes a way for the groundwater that fills the tank too early. Therefore, slow draining fills up the tank too quickly.
Gurgling sounds from the plumbing
The gurgling sounds may be the reason for a blockage from the plumbing system. These blockages in the pipes connecting to the septic tank may be clogged or start making a clog. The sound comes because of the clog and it leads to filling your tank fastly.
Bad odors in your home or yard
If you find the wrong odor came from the drainage system or yard, it may be a sign the septic tank is now working properly. This type of condition may arise because of the buildup of gasses in the tank, and ineffective digestion in the tank, it may indicate the septic tank is full or needs to be pumped.
How to prevent your septic tank from filling up early
Here are a few suggestions to prevent your septic tank from filling up early
Schedule regular pumping and maintenance
The house's septic tank and pipes should be inspected once in three years by a professional. Septic tanks are generally pumped every three to five years. Additionally, systems like pumps, electric float switches, and mechanical components should be used to inspect and maintain a septic tank.
Reduce water usage
The wastewater drains down by the pipes and ends up in the septic tank system. The more water a house conserves, the less water goes to the septic system. If you use the water efficiently it reduces the chance of malfunctions or improves the operation of a septic drainage system.
Properly dispose of waste
Whether you grind the garbage disposal, pour it down the sink, bath, or shower, or flush it down the toilet everything that goes down the drain ends up in a septic tank. You have to make sure that you do not pour all the waste materials into the drainage system, as it affects the tank. Only flush the wastewater, not any kind of waste materials, following it may help the septic tank not fill too early.
Solutions for a septic tank filling up too fast
Here are a few solutions for a septic tank filling up too fast
Installing a larger septic tank
The first thing, install a larger septic tank. It increases the storage capacity and also takes a longer time to fill completely. The larger one is far better than the smaller one because it easily contains the wastewater of a whole family.
Repair or replacement of a damaged drainage system
Sometimes the drainage system is damaged and needs to be fixed. Shorty's Sanitary Service provided such types of services at an affordable cost. There are various types of methods that you have to follow to fix it on your own:
Using rubber tape and hose clamps
Fiberglass resin cloth
Fiberglass resin tape
Epoxy putty
Silicone repair tape
Replacing your pipe
Upgrade to a different type of septic system
The last thing you can do is upgrade the drainage or septic system. You can contact Shorty's Sanitary Service for repair and upgrade of your septic system.
Are you looking for a Septic Cleaning Service in Oakland? Shorty's Sanitary Service has years of experience and a team of fully licensed and insured professionals who work efficiently. To learn more about their services, call them at 248-332-6476 or write to shortyssanitation@gmail.com.
---