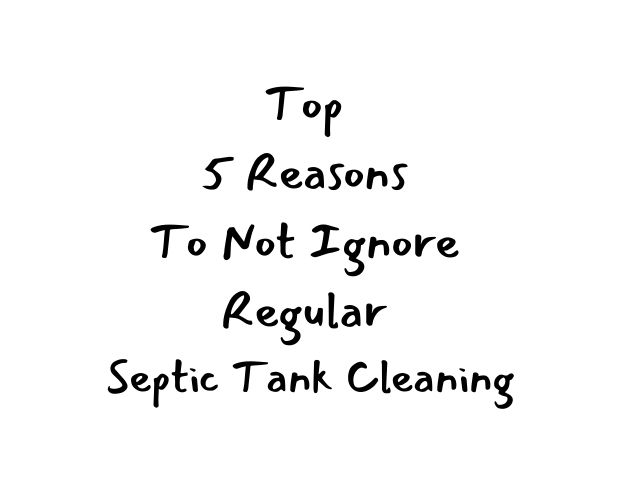 On a daily basis, each household uses a large quantity of water. But have you ever wondered what happens to this water afterward?
The used water or wastewater goes through the bathroom and kitchen drains into either a septic tank system or the city drainage. Most septic tank systems are built to work well for a number of years. But it is important to make sure that the system of wastewater disposal keeps working effectively. This is why many residential and commercial property owners in Oakland County, Michigan, have septic pumping installations.
Any household using septic systems needs to get them cleaned and repaired from time to time. But what happens when you don't do it? The answer is anyone's guess. You may begin noticing foul odors around the house, especially near the bathrooms, and kitchen. The next thing could be water backing up the toilet or the sink. These issues not only disturb your home environment but are also a health hazard!
Have a look at the top reasons smart homeowners choose to get regular septic tank cleaning done!
Keep Your Family Safe
Family comes first. Isn't that true? Putrid water is hazardous and it can adversely affect your and your loved ones' health . . A leaking pipe may mean wastewater mixing up with the drinking water supply, leading to water-borne diseases. If that water overflows into the drain field, it can be a health hazard to the entire neighborhood.
Cost-effectiveness
Lack of regular cleaning and maintenance may lead to wastewater getting collected and clogging the drains and pipes. This can not only produce intense foul odors but also lead to a complete breakdown of the septic system. And you do not want that to happen, right? Clogging, blockages and breakdowns will not only cost a lot more money to repair but also take a toll on your health and environment.
Prolong the Life of your Septic Tank System
Lack of proper care of the septic tanks can reduce their longevity and utility. Furthermore, it will lead to an increase in expenses over repairs or a new septic pumping installation. It is best to undertake proper maintenance of your septic tanks and drainage system.
Improve Performance
Regular cleaning and maintenance will ensure your septic tank keeps working efficiently, without breakdowns.
Hygiene
The septic tank holds wastewater as well as solid waste, such as sludge and scum. And irregular septic pumping installation and working can lead these substances to become stagnant and to collect filth at the bottom of the tanks. It can lead to contamination of water and the nearby area, causing health issues. You can avoid it through proper and regular septic tank cleaning.
If you are looking for a reliable septic tank cleaning provider, you can find great solutions by Short's Sanitary Service, one of the best pump installation companies in White Lake, Michigan. Get in touch with their services and a team of dedicated workers on 248-332-6476.
---