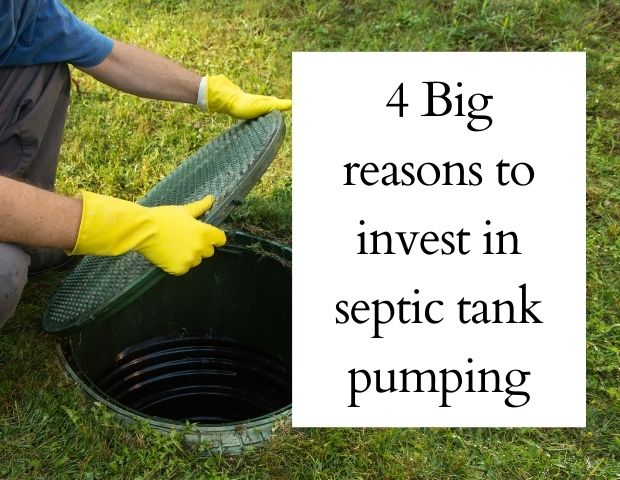 If you use septic tanks for drainage and waste management, you probably know that the system experiences wear and tear with time. That can reduce the efficiency and even cause the breakdown of the septic tank system. With the help of regular septic tank pumping, you can avoid such unpleasant situations and heavy expenses on repair.
Avoid unnecessary expenses
Septic tanks are responsible for draining wastewater from the household. Lack of maintenance may lead to heavy damage to its components or the tank itself. In order to fix the damage, such as the pipe repair, you may have to incur huge expenses.
You can avoid unnecessary expenses and save your money by having your septic tank cleaned and pumped once every year.
Prevent unpleasant  odors
Since the septic system carries wastewater from the household, its contents are bound to have a bad smell. Improper disposal of waste can cause the accumulation of residue and foul odors around the house. However, periodic septic tank pumping can keep the system working efficiently without developing foul odors.
Avoid water contamination
The wastewater from our houses includes kitchen and human waste. The septic tank helps filter the contents of the water before releasing it to the groundwater. However, a poorly maintained system does not function properly and is ineffective in the filtration and treatment of wastewater. It can result in the contamination of soil and underground water. In order to make sure that the underground water, your septic field, and the area around the house are clean, it is best to have a well-maintained septic tank.
Better property value
Having a fully functioning septic system increases the value of your property. On the other hand, a poorly maintained system can cause a significant decline in value and cause you to lose potential buyers. The expense of proper cleaning and repair of the septic system might cost you a little, but in the long run, it will only yield benefits.
Are you looking for help with your septic tank pumping in Oakland County, MI? Get the best assistance at affordable costs with Shorty's Sanitary Service. Call them at 248-332-6476.
---